Modern Fit Vs. Slim Fit Suit: Which One's Right For You?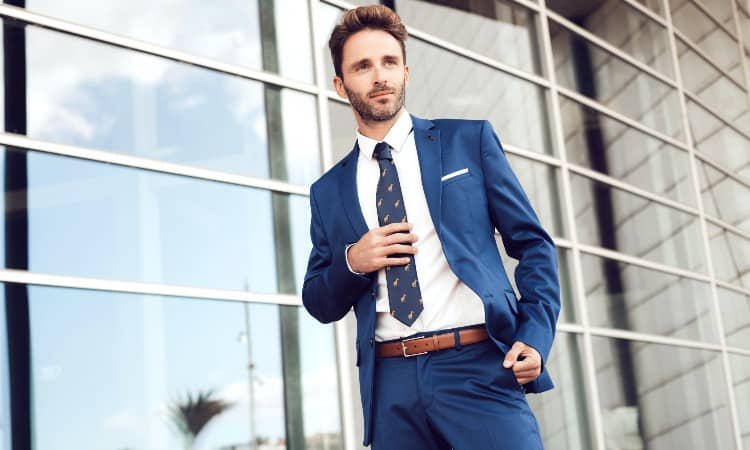 November 17, 2022
by Admin
A fit suit is essential for any man who wants to appear his best. But knowing which case is best for you with many available styles and cuts can take time and effort. Consider modern and slim fits when looking for a suit this season. Even though they may appear similar, each has specific advantages that can help you look your best. Modern fit vs slim fit suit, let's look at how they differ to help you choose which of these two styles is best for you.
Modern Fit: What is it?
Compared to traditional suits, modern fits are cut slightly slimmer. It doesn't offer a look as tailored as a skinny or slim-fit suit, but it is still thinner than a standard cut. "Contemporary Fit" is also frequently used to describe this suit.
Slim Fit: What is it?
A slim-fit suit has a substantially more streamlined cut than a regular suit. This gives it a more tailored appearance and makes it perfect for men with an athletic body or a thin frame. Although they can be incredibly fashionable, slim-fit suits are only sometimes the most comfortable choice. The modern fit can be a better choice if you're seeking a suit that is both comfy and fashionable.
Modern Fit Vs. Slim Fit Suit Differences
How a suit is cut distinguishes a modern fit from a slim fit. A slim-fit suit is much more fitting than a modern fit suit, which is cut slightly smaller than classic suits. Slim-fit suits may be less comfortable and forgiving if you don't have the ideal body type.
Shirts To Match Suits
You should also pick your shirts wisely if you want to look your finest in a modern or slim-fit suit. Any suit will look great with a classic fit shirt that pairs nicely with a modern fit jacket and is constructed of high-quality materials. Look for simple colors like blue, white, and black in the classic fit suit styles of plaids, checks, pinstripes, and solids. Avoid wearing big prints or busy patterns on your shirts because they will only go well with a slim-fit jacket.
Pants To Match Suits
It's essential to keep fit in mind as you select pants for your modern or slim-fit suit. The slim-fit pants should be snug but not overly so around your waist and hips. Additionally, they shouldn't bend at the ankle and should drop straight from your waist to the ground. This will guarantee that your suit looks polished and slick from all sides.
Suits For Any Occasions
It's time to put your new knowledge to use now that you understand the distinction between modern and slim-fit suits. Try on both styles when buying a suit, whether for work, a formal occasion, or just regular wear, to determine which fits you the best. With the great options available, you can be sure to find a suit that will make you look better and more stylish brands. ​
How Can You Certainly Tell Which Suit Will Fit You Best?
Going to a tailor and trying on various suits is the best way to determine which one will fit you the best. By doing this, you will better understand what suits your body type and which fashion flatters your figure. You can also consult the tailor for advice on what silhouettes and fashion trends will suit you the best.
If Your Body Is On The Slim Side
A slim-fit suit might be the best choice if you're thin or have an athletic build. A modern-fit suit might be a better option if you find slim-fit suits to be too tight or uncomfortable. You're sure to find the ideal suit among the fantastic options available. ​
If You Are A Bigger Man
It's crucial to choose a classic fit suit that enhances your form if you're a bigger man. Choose a slim-fit or modern suit rather than a standard-cut one because the latter may be overly prominent in the chest and waist. This will make your build stand out and give you a more fitted appearance.
If You Are Tall
A slim-fit or modern suit may fit you better than a traditional cut if you are tall or slender. However, a standard-cut suit can be the ideal choice for your body type if you're short or have a larger frame. In the end, experimenting with various suits and styles until you discover one that looks and feels terrific is the key to obtaining the proper fit.
If You Are Short
A slim-fit or modern suit can be too broad and loose on your physique if you're on the shorter side. Instead, choose a suit with a regular cut that comfortably fits your shoulders, chest, waist, and hips. These suggestions allow you to select the ideal case to fit your style and body type. ​
Modern Fit Suits
If you want something stylish and attractive, a modern fit suit is a perfect choice. These modern fit suits have narrower lapels than classic suits and are tailored slim through the body. They can be a fantastic option if you're short or have a short torso because they also tend to be shorter.
Slim Fit Suits
Wear slim-fit suits if you want to look smart and attractive. Because of how closely they are cut to the body, these suits may be too small or constricting for some body shapes. They are a fantastic option for guys with a thinner frame because they frequently have narrower lapels and shorter jackets than conventional suits.
To Conclude
A lot of brands offer both classes of fit, so you should be capable of trying them both on to see which one you prefer. Modern-fit pants still give you shape and a slim fit even though they are more comfortable due to their relaxed fit. Slim-fit pants give you a more tailored appearance despite being tighter on the body. The choice between a modern and a slim fit is entirely up to you, and you should ensure that you feel secure, content, and at ease.
You have it now! The main distinctions between modern fit vs slim fit suit are as follows. It's crucial to consider your body type and personal style when selecting a suit to ensure you get the right fit. Of course, to get the best fit, always remember to have the suit professionally tailored.